Orders
28 Apr 2023

5 Minutes to read
Orders
Updated on 28 Apr 2023

5 Minutes to read
---
Share feedback
Thanks for sharing your feedback!
You will access your orders and view their details in the view orders area. While managing your business, you will frequently work in this portion of the control panel. You will want to become familiar with its features and capabilities, such as viewing order details, accessing order timelines, capturing payments on authorized transactions, creating shipments, and processing refunds. From your WineDirect control panel, go to Ecommerce > Settings > Orders > View in the control panel to manage your orders.
The first thing you will notice is the tabs across the top. All Orders are selected by default. They provide a quick and easy way to find the orders you are looking for. They filter orders based on a specified order status or condition.
For example, if you only wanted to see newly paid orders that have yet to be processed, you would switch the view to Awaiting Fulfillment, which indicates the customer has checked out with a successful transaction.

The More tab contains additional views for past or completed orders.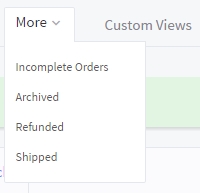 Custom Views: Keeping your orders organized for more effortless Fulfillment is critical to success, especially for stores with large order volumes. Custom Views allow you to sort your rankings in the following manners:
Go to Orders › View and select Custom Views. Click Create a new view.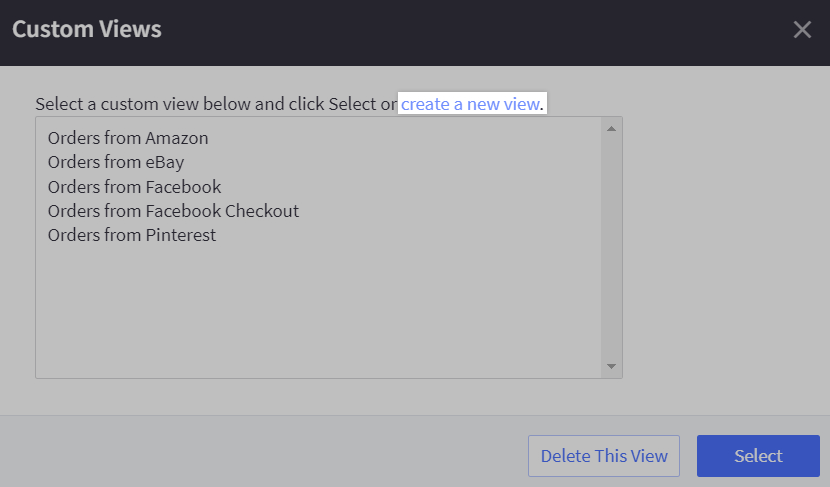 Fill out the form on the following screen to create your new view.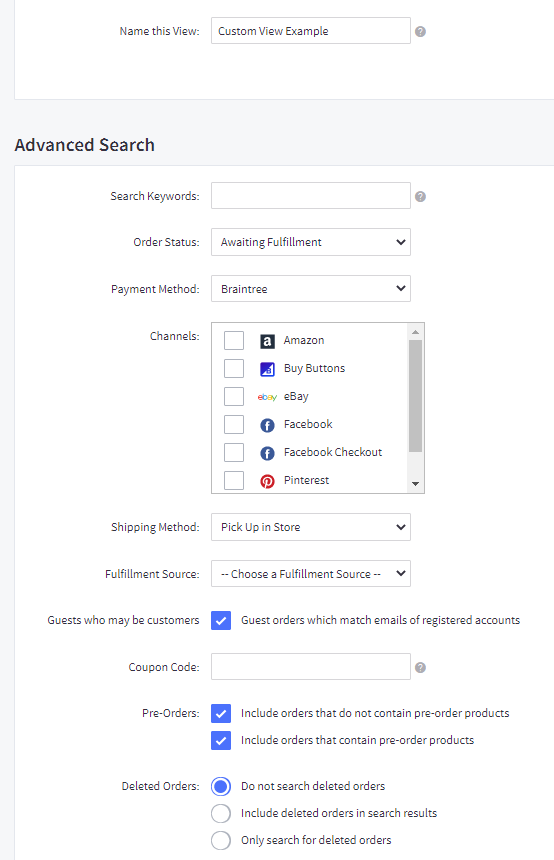 You can search your orders using the Filter by Keyword or Search button.
Order Details
You can view the particulars of any order by clicking the + icon to the left of the order date, or you can expand the details for all orders on the page by clicking the + icon in the menu bar at the top.

The first column displays the order's billing information, the date/time the order was placed, IP address, order source (such as a storefront, manual ordering, or a channel like Facebook), the type of payment used, payment status, the transaction ID, and the tax method used (manual tax or an automatic tax provider).
The second column shows the order's shipping information, such as the shipping address, shipping zone (as determined by the Shipping Manager) and method, shipping cost, and the date the order was shipped, as defined by the Ship Items action. It will also show any custom account fields added to the checkout page. See Adding and Editing Fields in the Account Signup Form for more information. *The second column will be blank if the order contains only digital products.*
The third column features quantities, options, brands, charges, and other details about the items included in the order.

Specific payment gateways will create a clickable transaction ID for the order that will take you to your provider's dashboard. This allows for quick reconciliations by viewing the settled funds associated with your transactions against the payment receipts from your payment provider.
These payment gateways WineDirect recommends will create clickable transaction IDs for orders:
PayPal powered by Braintree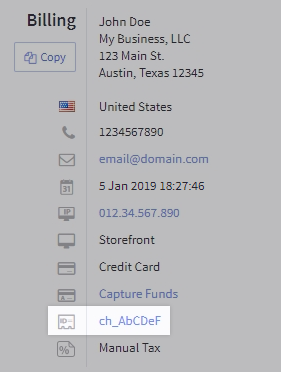 The customer's IP address is logged to determine where the order originated geographically. The charge is flagged as possibly fraudulent if an order's billing address does not match.

An icon to the left of each entry represents the source of the order. If you hover over these icons, you will see labels like Storefront, Instagram, Mobile Device, Manual Order, or Checkout API. A manual order means you created the order within your control panel. A checkout API order implies the order was made using the Checkout API, not the checkout flow on the storefront or via the control panel.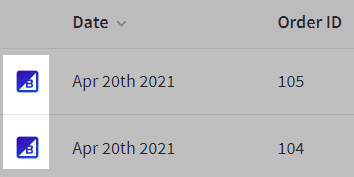 To the far right of each order, you will find actions allowing you to perform several specific actions.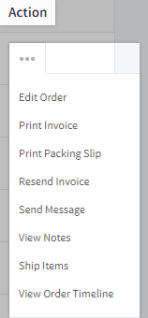 You can see the customer group of an order by performing an order export with a custom export template. This information helps determine the percentage of orders from a particular group. Enable the Customer Group Name field under the Orders tab while editing your custom export template to display this information in your CSV orders reports.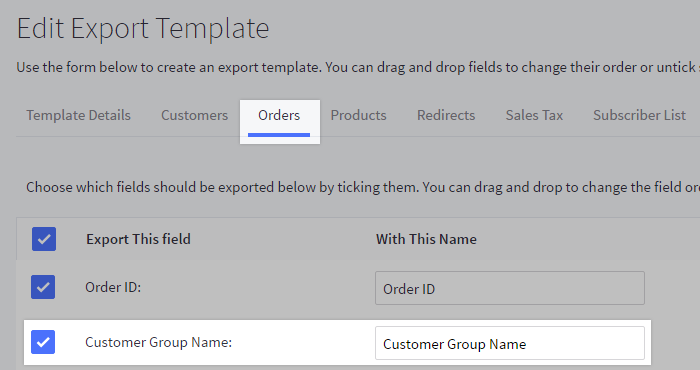 Changing Orders in Bulk
In addition to the action button, there is a "Choose an action" dropdown menu at the top of the order table. It allows you to apply specific actions in bulk to multiple orders, including some not available via the action button, like:
capture funds for selected
export selected
archive selected
To apply for order status or perform an action in bulk, check the box to the left of each desired order, then select a step from the Choose an Action dropdown and click Confirm.

Searching Orders
You can search your orders by going to Orders › View and entering your query, such as an order ID, product SKU or customer name, in the Filter by Keyword field, then clicking the filter icon. For more advanced search queries that let you search by a range of criteria, click the Search button or go to Orders › Search.
ADVANCED SEARCH
For more detailed order searches, go to Orders › Search. The Advanced Search allows you to search orders by the following criteria: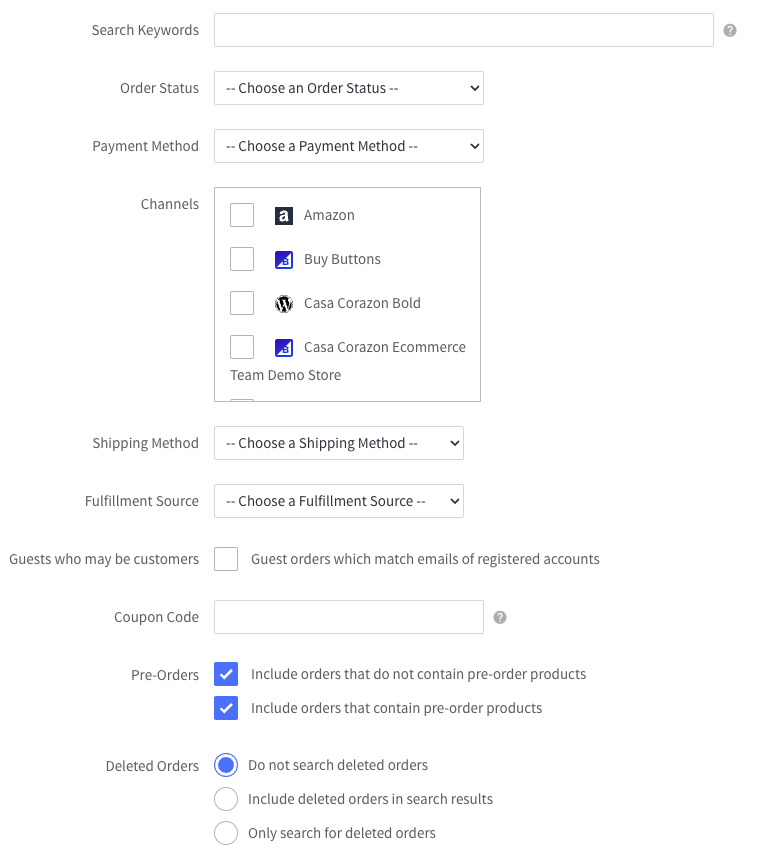 Search Keywords — the keywords you type into this box will be used to explore the order ID (including IDs assigned by external sources), billing details, and shipping details
Order Status — allows you to narrow your search to a particular order status
Payment Method — allows you to narrow your search to a particular payment method set up in your control panel's payments area.
Channel — allows you to narrow your search by what channel the order originated from. For example, if you are integrated with Amazon, you can check the search to only Amazon or WineDirect orders.
Shipping Method — allows you to narrow your search to those orders that use a particular shipping type, such as FedEx, UPS, and ShipperHQ. You can also filter by Flat Rate/Ship by methods.
Fulfillment Source — this field is deprecated.
Guests who may be customers — filters guest orders that match registered accounts' emails, allowing you to link guest orders to existing customer accounts.
Coupon Code — enter a coupon code in this box to view all orders that applied that particular coupon. Only complete coupon codes can be searched. Serialized coupons that may share a typical prefix or suffix cannot be searched by just their shared elements.
Pre-Orders — specify whether or not to include pre-order items in your search or even narrow it to only products with pre-order availability
Deleted Orders — determine whether or not to include deleted orders in your search or to only search deleted orders
SEARCH BY RANGE
The settings in Search by Range allow you to search orders by the following criteria: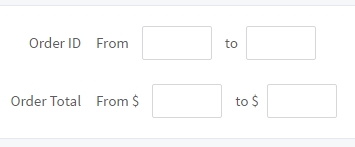 Order ID — specify a range of Order IDs to search from.
Order Total — select a range of order totals to search from.
SEARCH BY DATE
The settings in Search by Date allow you to search orders by the following criteria: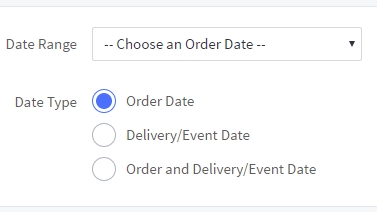 Date Range — will enable you to narrow your search results using a specific preset date range or define a custom date scope by selecting Custom Period
Date Type — specify if the selected Date Range applies to the order's date, the "delivery/event date" specified on a product, or both.
---
Was this article helpful?
---
What's Next