Point of Sale (App)
07 Sep 2023

1 Minute to read
Point of Sale (App)
Updated on 07 Sep 2023

1 Minute to read
---
Share feedback
Thanks for sharing your feedback!
-Under Construction-
Check our Bi-Weekly Update Log for what's new!
With WineDirect's point of sale application, it is easy to streamline the sales process, allowing for a greater focus on what matters most: building lasting relationships with customers. The point of sale app offers a range of features designed specifically for wineries, including inventory management, customer relationship management, and order processing.
System Requirements
The WineDirect point of sale application can be found on the Apple App Store ONLY.
The WineDirect point of sale application can only be used on iPads with iOS 15 or above.
Login Screen
The credentials used to sign in to the main WineDirect admin website will be used to sign in to the WineDirect point of sale application.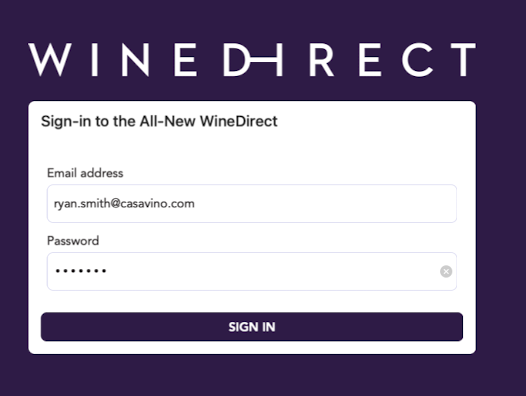 Multiple Storefronts
If multiple storefronts are associated with a WineDirect account, once users enter their credentials into the POS system, those given access can search and select which storefront's point of sale they wish to use.

Point of Sale Home Page
A: Product Search Bar - This searches for specific products and categories by name. Search results begin to appear after 3 characters are typed.
B: Product List - All live products and categories are available for the point of sale profile.
C: Navigation Bar - Options include the products page, order history, open orders (coming soon), customer list, or adding a new member to a wine club.
D: Purchasing Customer - Once a customer is found or added, their name will appear here.
E: Products in Cart - This is the running list of items to be purchased. Prices and quantities for an order can be edited by swiping left on a product in the cart.
F: Shipping and Taxation - Any shipping costs and taxation will be shown here.
G: Payments - Once a customer is ready to pay, press this button, and the tender selection screen will open.
---
Was this article helpful?
---
What's Next