Transportation Guidelines (WDI)
05 Jun 2023

1 Minute to read
Transportation Guidelines (WDI)
Updated on 05 Jun 2023

1 Minute to read
---
Share feedback
Thanks for sharing your feedback!
Please Note: The transportation schedule below pertains to all accounts fulfilled from the WDI, American Canyon location. For all other fulfillment locations, please contact your Account Manager to be informed of the delivery and transportation schedule.
DAYS: Monday thru Friday
HOURS: Business Hours: 8:00 am to 4:00 pm
Appointment times available between 8:00am to 3:00pm with confirmed appointment
LOCATION: 450 Green Island Rd American Canyon, CA 94503; Door D5
CONTACT: [email protected]
WD offers complimentary transportation within a 70-mile radius of our American Canyon, CA facility. We maintain a set weekly route schedule. If you need service beyond the 70-mile radius or have inventory that needs to be delivered sooner than our schedule, please get in touch with our Receiving Department, and we can recommend transportation partners.
If you want products delivered or picked up by WD, email [email protected] to schedule. Please reference your Transfer IN or OUT # in your email.
WD trucks have an 8-pallet capacity maximum. Please submit In and Out requests with the 8-pallet limitation in mind. For reference:
12 bottles x 56 cases = 672 bottles (56 cases = 1 Pallet)

672 bottles x 8 pallets = 5,376 bottles
TRUCK SCHEDULE
MON
TUES
WED
THU
FRI

Napa
Rutherford
Calistoga
St. Helena
Sonoma

Windsor
Healdsburg
Napa

Calistoga
Sonoma
Napa

Windsor
Healdsburg
Napa

Napa
Rutherford
Calistoga
Sonoma
Santa Rosa
DELIVERIES
For inventory directly delivered to our facility, kindly give our Receiving Team a heads up by emailing [email protected] and adding the respective Inventory IN request # on the company line along with "WineDirect" or "Receiving" along with including the Inventory IN request # as a reference # on the label.
These extra steps will help to ensure the timely receipt of the inventory.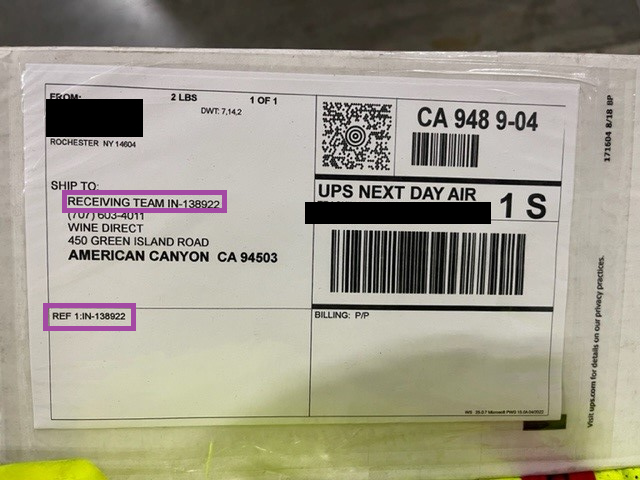 ---
Was this article helpful?
---
What's Next